The Competition for Undergraduate Regenerative Engineering (CURE) Club
This is a student-run organization whose mission is to challenge the innovation and technical skills of student interdisciplinary teams to tackle medical problems or challenges using regenerative engineering solutions.
CURE Members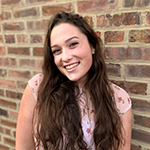 Kate Chambers, Secretary/Media Director, CURE Club

Kate is a junior studying biomedical engineering on the pre-med track with a minor in psychology. She is a member of the Leonard Lab at Northwestern, where she is working on developing and evaluating biosensors for cell based therapies and diagnostics. She is really interested in complementing her current work on cell therapies with applications to wound healing. She enjoys playing violin, mosaicing, reading, being outdoors (especially by the lake) and spending time with friends!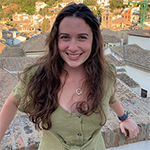 Nora Chambers, President, CURE Club

Nora is a junior studying biomedical engineering on the pre-med track with a minor in political science. She is a part of the Kamat Lab here at Northwestern, where she has recently been looking into characterizing membrane tension in vesicles. Nora is looking forward to being able to get experience in hands on wound healing. Outside of school she loves politics, playing water polo and playing violin in her Irish music group!
Catherine Chen, Operations Manager, CURE Club

 Catherine is a third-year majoring in biomedical engineering with interests in bioelectronics and regenerative engineering to further the field of medicine. She is also the captain of the women's club ultimate frisbee team at Northwestern and loves to read, hike in national parks, and travel!
 Ramon Neira
Ramon is a sophomore studying biomedical engineering with a minor in economics. He is interested in biochemistry and finance. He enjoys reading, listening to music and meditating. He hopes to gain hands on experience working in a lab setting.


Tristan Svoboda, Project Manager, CURE Club

Tristan is a third-year pre-medical studying psychology with a minor in viola performance. He has worked as a research assistant for the Joel Voss lab at the Feinberg School of Medicine. He is currently studying meditation's effect on anxiety among undergraduates. He teaches violin, plays guitar, writes calligraphy, and volunteers at Hospice.
CURE Alumni
                  Taylor Brown
                   Kira Jeffris

                   Eric Li

                   Olivia Prado




 

 
Back to top