About the Symposium
Symposium on Regenerative Engineering
Join us at the Third Symposium on Regenerative Engineering
April 30th and May 1, 2024
Location: Simpson Querrey Auditorium and Atrium
303 East Superior Street, 1-230, Chicago, IL, 60611
Event details and RSVP link available soon
---
Past Symposia
Second Symposium on Regenerative Engineering
Thursday, May 19, 2022
Location: Simpson Querrey Auditorium and Atrium
303 East Superior Street, 1-230, Chicago, IL, 60611
The Center for Advanced Regenerative Engineering (CARE) is proud to share the success of its 2nd Regenerative Engineering Symposium, which took place at the Simpson-Querrey Auditorium on the Chicago campus on May 19th, 2022. We thank all participants and attendees for making the symposium a great educational and networking event. The day kicked off with opening remarks by Guillermo Ameer (Director, CARE), Julio Ottino (Dean, McCormick School of Engineering), and Samuel Stupp (Director, Simpson Querrey Institute).
Five internationally recognized speakers, including members of the National Academy of Medicine, Engineering and Sciences, whose expertise spanned musculoskeletal tissue regeneration, wound healing, biomaterials, 3-D printing, and commercialization complemented one another in the broader discussion of the convergence of engineering, life sciences, and translational medicine. Cato Laurencin (University of Connecticut) discussed his team's work in the newest technologies in regenerative engineering, including nanotechnology, limb regeneration, and a new class of stem cells: the Synthetic Artificial Stem Cell. Ramille Shah (University of Illinois at Chicago) shared her research in developing biomaterial inks that optimize functionality of 3D-printed custom implants, as well as her experience in taking her research through entrepreneurship into her startup company, Dimension Inx. Michael Sefton (University of Toronto) presented his team's work focusing on methacrylic acid (MAA) rich biomaterials that promote an increase in vascularization as well as nerve regeneration in tissue without exogenous stem cells or growth factors. Tatiana Segura (Duke University) introduced the audience to building blocks composed of hydrogel microparticles: microporous annealed particles (MAP) scaffolds. As granular materials, MAP scaffolds are uniquely suited for tissue regeneration due to the variety of scaffold microarchitectures and form factors that can be generated. Finally, Dave Washburn (Acuitive Technologies) shared his extensive experience in translating academic research into successful commercial products, sharing strategy and common factors that should be considered.
 A highlight of the day was the integration of student presentations in oral and poster formats. The inaugural predoctoral student cohort of CARE's Regenerative Engineering Training Program (RE-Training) – funded by the National Institute of Biomedical Imaging and Bioengineering – as well as 4 teams from CARE's undergraduate club, the Competition for Undergraduate Regenerative Engineering (CURE) presented their research from the podium. The CURE team project of title "Bioactive Hydrogels with Copper Release to Accelerate Diabetic Wound Healing" took the 1st place.  A total of 20 posters participated in the symposium and technologies from research laboratories were showcased. These activities, the wonderful speakers, and a lively reception contributed to an engaging day of networking and education in the field of regenerative engineering.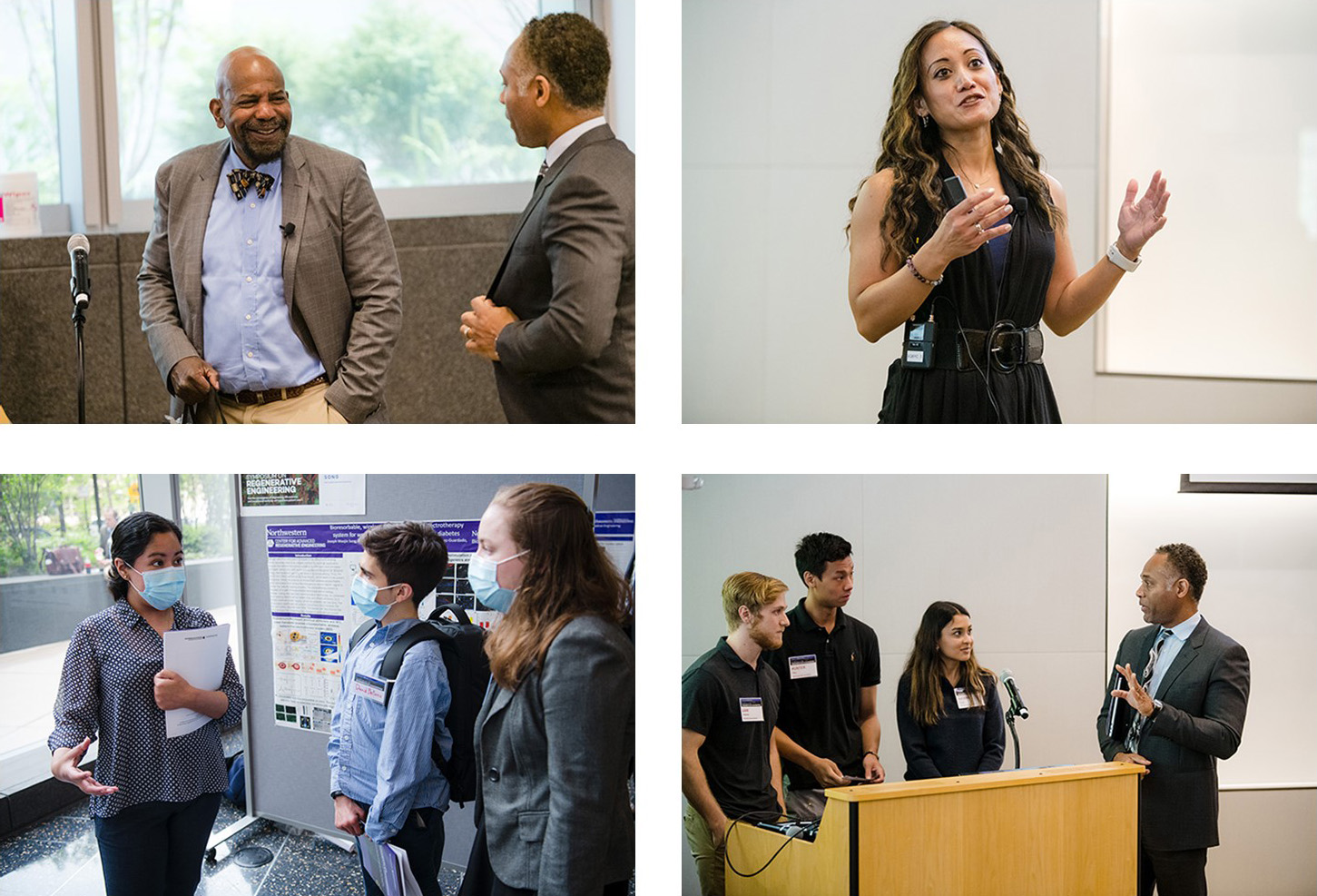 Conference Schedule:
| | |
| --- | --- |
| 7:30 AM – 8:30 AM | Registration and Breakfast |
| 8:30 AM – 9:00 AM | Opening Remarks: Guillermo Ameer, Julio Ottino, Samuel Stupp |
| 9:00 AM – 9:45 AM | Speaker: Cato Laurencin |
| 9:45 AM – 10:05 AM | RE-Training Rapid Fire Presentations |
| 10:05 AM – 10:50 AM | Speaker: Ramille Shah |
| 10:50 AM – 11:05 AM | Break, Poster Viewing, Research Lab Tech Showcase |
| 11:05 AM – 11:50 AM | Speaker: Laura Niklason |
| 11:50 AM – 12:05 PM | CURE Competition Presentations |
| 12:05 PM – 1:15 PM | Lunch and Poster Presentations |
| 1:15 PM – 2:00 PM | Speaker: Michael Sefton |
| 2:00 PM – 2:20 PM | RE-Training Rapid Fire Presentations |
| 2:20 PM – 3:05 PM | Speaker: Tatiana Segura |
| 3:05 PM - 3:20 PM | Break, Poster Viewing, Research Lab Tech Showcase |
| 3:20 PM – 4:05 PM | Speaker: Dave Washburn |
| 4:05 PM – 4:20 PM | CURE Competition Presentations |
| 4:20 PM – 4:50 PM | Panel Discussion with Speakers |
| 4:50 PM – 5:00 PM | Closing Remarks and CURE Awards Presentation |
| 5:00 PM – 6:00 PM | Reception and Poster Viewing |
Back to top